Clam Jams
Guided Razor Clamming Trips

Across Cook Inlet
(When Tide Permits)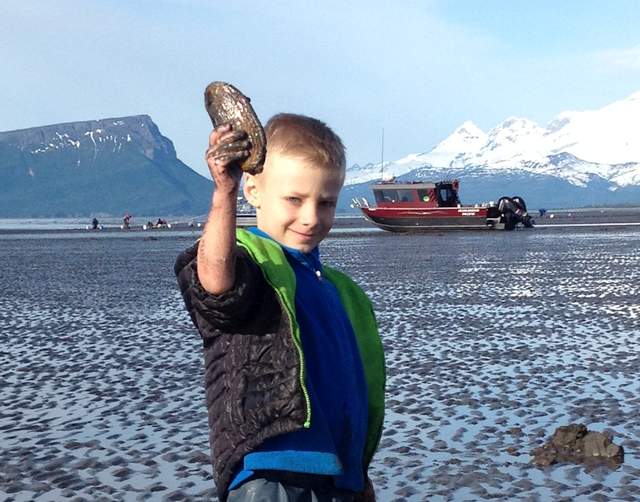 Cook Inlet experiences the second strongest tidal movements of any body of water on the planet. During certain moon phases, usually following the full moon or no moon cycles, trillions of gallons of sea water drains from the inlet and exposes sandy beaches that would normally be under water. Most beaches along the inlet do not produce large numbers of razor clams, it requires certain rare conditions to produce a harvestable number.
In the past, beaches from Ninilchik up to Clam Gulch produced vast numbers of razor clams and was easily accessible by the road system and off road vehicles. A number of conditions changed in recent years, and these areas no longer contain large numbers of razor clams. Clam harvesting is currently closed or very limited along these shore lines.
Razor Clams are a delicacy. Years ago, the staff at Reel'em Inn began exploring the exposed beaches on the far side of Cook Inlet in search of productive razor clam beds, and they found them! Millions of them! Isolated along the western shores of Cook Inlet, this remote wilderness area accessible only by boat and bush planes, are sand bars teaming with razor clams. Big ones. So many razor clams that the state of Alaska declared no limits on the number of razor clams a sport fisherman can dig.
Use our "BOOK NOW" tab on this website to check scheduled departure times and availability.
This adventurous charter requires a long boat ride, about 60 miles round trip, and about 8 hours to complete. It also requires us to beach our boats on exposed sandbars on the outgoing tide and allows our guests up to 4 hours of digging time before the incoming tide floats the boat for the trip home. Your crew at Reel'em Inn will assist you while digging and will provide all the equipment needed to harvest your catch. It's hard work. It's dirty work. You'll love it. You'll remember it forever!
Reel'em Inn staff does not clean clams as part of the charter service. However, we can assist groups with the tools, hot water and provide use of our processing areas. In addition, some of the long time Ninilchik locals clean clams for a fee, usually .50 to .75 cents each.
Make Your Reservations
Toll Free (800) 447-7335